Best Interactive Widgets for iPadOS 17
With the release of iPadOS 17, Apple has once again raised the bar, offering users a more dynamic and personalized iPad experience. Among the standout features of this update are the interactive widgets, designed to bring information and actions right to your fingertips, without even opening an app.
Whether you're looking to quickly play your favorite playlist, check the weather, or turn off your smart lights, these widgets have got you covered. In this article, we'll dive into the best interactive widgets for iPadOS 17, showcasing how they can transform your daily iPad interactions and make multitasking a breeze. So, let's get started and explore the widgets that are making waves!
What's New in iPadOS 17
iPadOS 17 brings a wave of personalization and enhanced capabilities to the iPad. The Lock Screen now offers stunning wallpapers, dynamic Live Photo effects, and real-time updates with Live Activities. You can also add your favorite widgets for quick glances.
Interactive Widgets allow users to perform actions directly, while Messages sees a host of improvements, from a unified stickers drawer to transcribed audio messages. FaceTime introduces the ability to leave missed call messages and offers fun 3D augmented reality reactions.
The Health app debuts on the iPad with a design tailored for the larger screen, focusing on mental and vision health. PDFs and Notes get a boost with enhanced AutoFill, direct PDF annotations in Notes, and real-time collaboration features.
Safari introduces separate browsing profiles, enhanced private browsing, and autofill for mail verification codes. The Keyboard offers improved autocorrect and inline predictions. Freeform provides new drawing tools, and Spotlight, Siri, and AirPlay come with their own set of enhancements.
Best Interactive Widgets for iPadOS 17
Apple Widgets
Coming as little surprise, Apple took the time to update many of its own built-in widgets for the release of iPadOS 17. However, three of those widgets stood out from the rest, so we've included them in our list below.
Home
With iPadOS 17, the Home widget now allows you to control all of your HomeKit-connected smart home devices right from your Home Screen. You'll find a 2×2 widget and a 2×4 widget, allowing you to turn your lights on or off without actually being taken into the Home app. Apple also added two new "Grid Forecast" widgets for those who want to "see when the electricity grid is generating cleaner or renewable energy."
Shortcuts
It's one thing being able to add Shortcuts to your Home Screen as individual apps, but that's not exactly conducive for a lot of people. Having a Shortcuts widget on your Home Screen is also nothing new, but thanks to interactive widgets on iOS 17 and iPadOS 17, you can activate a Shortcut with just a tap, provided that it's already in the widget. Speaking of which, iPadOS 17 brings a 1×2, 2×2, 4×2, and even a 4×4 widget, giving you quick and easy access to up to 16 Shortcuts on your Home Screen at the same time.
Music
One of the biggest reasons why you might want to have interactive widgets on iPadOS 17, or pretty much any of your devices, is to quickly stop or start your music playback. Apple's own music app is also getting revamped widgets, with a total of 11 different widgets to choose from, all of which allow you to play or pause music without needing to be taken into the app.
Reminders
Rounding out our favorite upgraded interactive widgets for iPadOS 17 is the Reminders app. Surprisingly, Apple introduced quite a few new features with its built-in to-do app, including bringing things like a Kanban View to the mix, along with grocery sorting and the ability to create sections within each respective list. But when it comes to the widgets, you'll be able to go through and check off your to-dos right from the Home Screen, something we've been wanting ever since Apple introduced widgets on the iPhone and iPad.
Third-Party App Widgets
While we're excited to see the new features available with Apple's own interactive widgets on iPadOS 17, this is just the beginning. Many of your favorite apps have been updated to support the implementation of interactive widgets on iPadOS 17. While the list below is pretty exhaustive, it's definitely not every app updated with support.
If there's a new app that we missed, please let us know in the comment section! Also, give us an idea of what widgets you're using on your own iPad running iPadOS 17.
Customization
Widgetsmith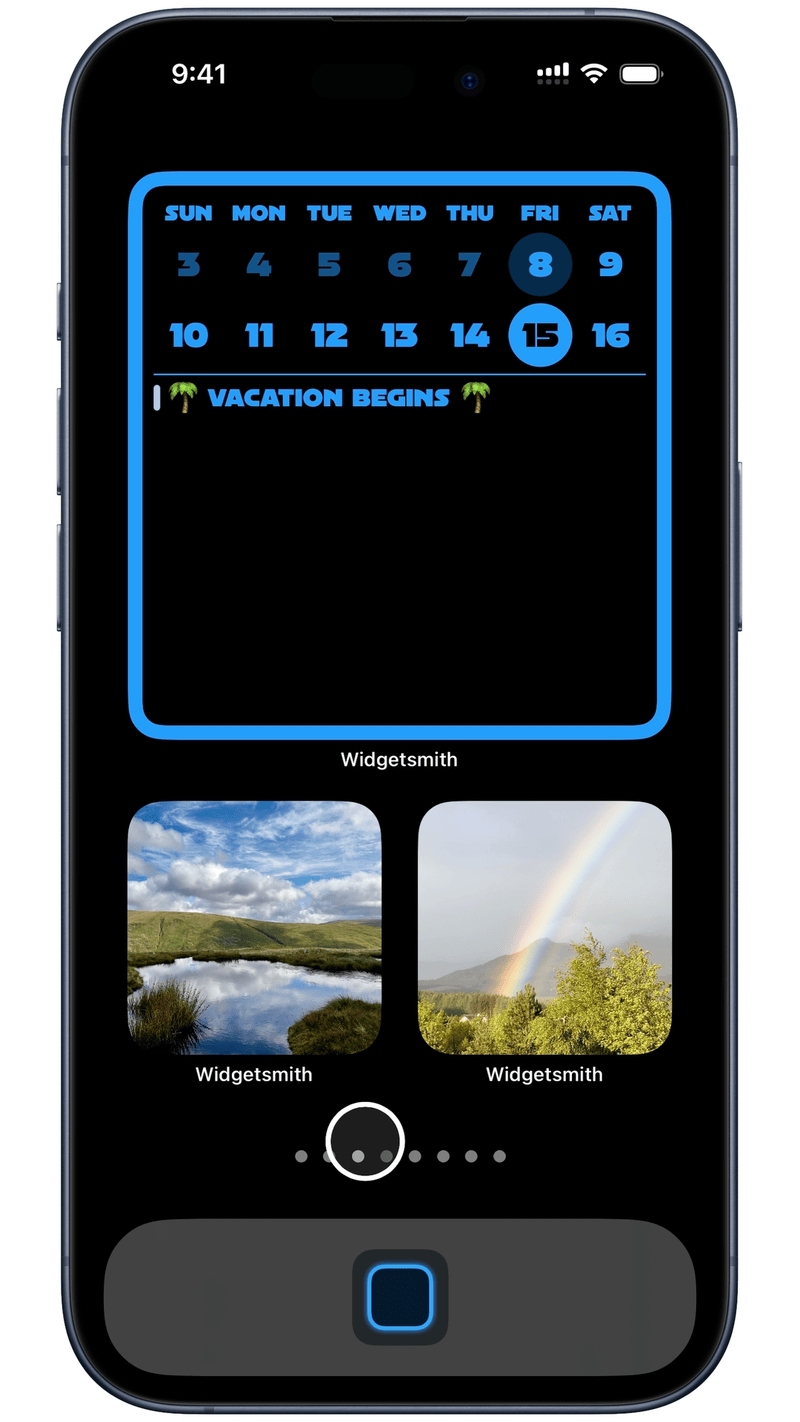 Version Five introduces interactive widgets, allowing for some really dynamic experiences including:
Build interactive photo galleries
Thumb through and play your favorite music albums
Browse upcoming days on your calendar
Toggle between photographs and informational widgets
Or even play a game right on your home screen
Home
TV Remote – Universal Remote
Added support for Interactive Widgets. Send remote commands, launch apps and switch sources without opening the app.
Live Activities can now control your TV without launching the app.
Redesigned watchOS app for watchOS 10 users.
Default televisions are now pre-selected on watchOS 10.
Added a new Filter Televisions Shortcut for quickly finding televisions to use in other Shortcuts.
Existing Siri Shortcuts and Widgets have been switched to the new AppIntents framework for greater flexibility in future updates.
Added some preset Shortcuts that don't require configuring first.
Support for StandBy in iOS 17.
Support for Lock Screen Widgets in iPadOS 17.
Added some relevant tips throughout the app using TipKit.
Updated the design of Widgets.
Updated the design of Live Activities.
Improved the layout of the remote and updated the general UI on iOS.
Improved the communication between the iOS and watchOS app.
Improved the performance of Live Activities.
Fixed bug where apps would appear multiple times on Apple Watch.
Compatibility updates for iOS 17 & watchOS 10.
Updated the minimum OS version to iOS 16/watchOS 9 to take advantage of new features.
Other bug fixes & improvements.
Download TV Remote – Universal Remote
Signals for HomeKit
iOS 17 is here, and Signals for HomeKit is getting Interactive Widgets to go with it! Support for Standby Mode means easy access to let the family know that it's Dinner Time or Time to Go. Perfect for a wall mounted iPad HomeKit Controller!
Home Widget
Our Widgets are now fully interactive! You no longer even leave the Home Screen or the Lock Screen to turn your lights On and Off, activate your Scenes or trigger your Actions. No need to open the app anymore.
We have integrated dimmers with interactive widgets. You can now vary the intensity or color of your lights directly or half-open your blinds, and always directly from the Widgets! It is even possible to ask for confirmation before performing a sensitive action.
in response to your feedback, we've introduced a new widget size: a compact 2×2 layout with four buttons. Enjoy quick access to your most-used actions while conserving screen space.
now a tap on one of the sensors, detectors, counters or refresh buttons allows you to refresh the widget, again without having to launch the application in the foreground
the "Nightstand" mode allows you to use Widgets and benefit from all the new features and interactivity even in the middle of the night.
there are also many new features on the iPad. Small and Circular Widgets can now be used on the locked screen. Again, no need to leave the lock screen to perform any action.
you have shades or rolling shutters, you can now choose their precise position from the widgets.
finally, with the new version of iOS we have further improved response and execution times and the application remains the fastest on the market to perform all these actions.
Productivity
Things 3
This update brings support for iOS 17, iPadOS 17, and watchOS 10, including Interactive Widgets and some other great improvements.
INTERACTIVE WIDGETS
Things' widgets are now interactive. This means that you can complete your to-dos right on the Home Screen, without having to open the app:
Tap a to-do's checkbox to mark it complete.
Tap a to-do's title to reveal it in Things.
WIDGETS EVERYWHERE
Things' widgets are now available in more places than ever. Once you've upgraded to the latest OS versions, you can add them to:
Your iPad's Lock Screen.
Your iPhone's new StandBy mode, which is activated when the device is on its side and connected to power.
Your Watch's new Smart Stack, which is revealed by swiping up from the bottom of the watch face.
OmniFocus
OmniFocus 3.15 improves compatibility with newer versions of iOS, iPadOS, and watchOS.
Sync — Sync database selection prompt now displays correct last edit dates.
Widgets — Restored localized day names in Forecast widget.
Stability — Fixed a crash that could occur when interacting with pinned Project Inspector on newer versions of iPadOS.
Stability — Addressed a bug that could trigger a crash when autofilling Omni Account credentials via a password manager.
Timery
Interactive widgets for iOS 17
Smart Stack widgets on Apple Watch
StandBy widgets for iOS 17
Lock Screen widgets on iPadOS 17
Fantastical Calendar
Redesigned Apple Watch app
Added support for widgets in the Smart Stack (requires watchOS 10)
StandBy widgets! (requires iOS 17)
"Event List + Calendar" widgets are now interactive! Tap on a date and see your schedule directly from the widget! (requires iOS 17)
Complete tasks directly from your home screen widgets! (requires iOS 17)
Widgets on your iPad lock screen! (requires iPadOS 17)
Added support for location options when booking a meeting with Openings (conference calls, call-in, and in-person options)
Live Activities now work up to eight hours ahead
Added support for Google Rooms
Enabling travel time will automatically set the start location to the previous event, if possible
Improved Zoom URL detection for Germany-based conference calls
Fixed an issue that prevented widgets from updating when Item Indicators were enabled
Fixed an issue when duplicating locations
Fixed an issue where the app would crash when getting directions for an event
Fixed an issue that cause some shortcuts from working properly on macOS Monterey
Fixed a crash when launching Fantastical on iOS 15
Fixed a crash when using watchOS 8
Fixed a crash when running some Shortcuts actions
Various fixes and improvements
Sticky Widgets
Sticky Widgets has been updated to support all the newest iOS technologies! Cross items off your lists without even opening the app. Sticky Widgets notes are now more powerful than ever, since you can use Shortcuts to view and update them. And the widget system has been simplified so you never have to remember a note's name or ID number again.
Streaks
Interactive widgets for completing tasks and starting timers

When using the "Tasks" widget, you will now see a checkmark icon on tasks, indicating you can complete them directly from the widget.
For timed tasks, a Play/Pause button appears instead, allowing you to start or pause timed tasks.
If a task has the "Open URL" or "Run Shortcut" action button assigned, that will appear instead. When you tap the button, the URL will be opened, or the Shortcut will run.

Interactive Live Activities

Just like with interactive widgets, you can pause/resume timers directly from your iPhone's lock screen or Dynamic Island.
Streaks supports multiple Live Activities at once, and the progress animates while the timer is running.
If you pause a Live Activity, it remains on your lock screen for a short time to allow you to resume if necessary.

Support for StandBy mode

In iOS 17, your phone enters StandBy when on charge and in landscape. You can show Streaks widgets and Live Activities in StandBy.

Support for iPhone 15 Pro action button

Streaks already has extensive support for the Shortcuts app and App Intents, meaning you can map the new iPhone 15 Action Button to any of these shortcuts.

An all-new design for Apple Watch

In watchOS 10, apps now use full-color edge-to-edge designs. We've updated Streaks to use this new design language. The watch app will now mirror the theme selected in the iPhone app.

Support for Smart Stacks on Apple Watch

In watchOS 10, moving the Digital Crown now shows the Smart Stack, which is a list of widgets that are relevant based on time of day or location.

"Time in Daylight" task

In iOS 17, the Health app now supports Time In Daylight, which is automatically estimated by Apple Watch. Streaks has a new task you can use to set a goal for this type of data.
Focused Work – Pomodoro Timer
Start the timer with one quick tap, and also control the timer from your desktop in macOS Sonoma with Continuity Widgets.
Download Focused Work – Pomodoro Timer
Tasks
Widgets for Tasks launched on Day 1 of iOS 14. Over the years we received a ton of feedback and we are glad to have addressed them and go even beyond to improve our widgets. With iOS 17, widgets can now be interacted with and that allows tasks to be checked off right from the Home Screen or even Lock Screen!
Upgraded sync engine to make collaboration faster and more reliable than ever
Introducing fresh new widgets for easy task management right on your Mac
Newly added "Scheduled" list quickly helps you visualize all your upcoming appointments and to-dos, ensuring you never miss an important event or deadline by date!
Improved invite flow UI
Improvements to our app accessibility making it more user-friendly than ever
Improved counterpart app for iOS and brand new app for the Apple Watch
Collaboration now works with Tasks Cloud only to provide the best possible experience from inviting people to assigning tasks.
Gola: Goal-Tracker
Now bigger than ever! Quickly check and update your goals right on your iPad, and timing it with iPadOS 17 you can use lock screen widgets, have interactive charts, and just see a whole lot more goals in one go.
Multi-window Support
Keyboard Shortcuts
Mouse + Keyboard support
Design optimised for the bigger screen
Health
Gentler Streak
Following Apple's introduction of Health to its iPadOS 17, Gentler Streak is making its debut on the platform, making use of newly reachable health information from day dot. The iPad app comes with an optimized experience on the larger screen, and with some unique perks.
Now, with the help of an interactive widget, you can start a suggested Go Gentler workout directly from an iPhone's home screen.
Glucomate
An interactive widget has been added to Glucomate that allows you to quickly record your current blood glucose reading. We've designed quick-input controls allowing you to precisely input your current blood glucose. Once entered, it's saved to HealthKit and available to all apps that can read your blood glucose data in HealthKit – including Glucomate.
Tools
Tally
Interactive widgets bring counting to the Home and Lock Screen.
Redesigned Apple Watch app.
iCloud sync and backup.
Requires iOS 17 and watchOS 10 or greater
LookUp: English Dictionary
Interactive widgets for iOS 17
Completely redesigned Apple Watch app
Download LookUp: English Dictionary
Spark Mail
Alongside the wonderful update from Apple, Spark is here and ready with a cavalcade of new features:
Interactive Widgets
Updated Widgets allow you to swiftly mark emails as done directly from your Home Screen, bypassing the app launch. You can customize the action button to "Delete" or just remove it. Also, we've added customizable tabs so you can easily switch the email category within the widget. We've added new shortcuts, including "Open Priority List", "Email 'I'm late'", and more.
For our iPad users: Now, you can easily drag and drop files directly onto the app icon in the Dock, and the email composer window will pop up with the pre-loaded attachments.
Channel Keeper
Channel Keeper offers support for widgets and shortcuts, allowing you to personalize your device's home screen and access your favorite channels directly. Stay connected to your preferred content creators with just a single tap. WIth shortcuts you can get the newest video for a channel or an entire collection and create automations tailored to your needs.
Music / Audio
Overcast
Interactive widgets!
Dark Noise
Dark Noise widgets have been rebuilt from the ground up to support the all new interactive widgets in iOS 17. This means you can start and stop a sound right from your widget without needing to open the app.
There are now 8 different widget's to choose from, each with 12 themes you can configure between. The small widgets all work wonderfully with iOS 17's new StandBy mode, making it easier than ever to start your favorite ambient noise when you go to sleep.
Snbd
Interactive Widgets! Add widgets and play sounds without leaving your Home Screen.
Longplay
Updated Album Wall widget:
Shows a grid of albums, tapping one starts playing it, tapping it again will pause playback.
Playback status is indicated by the album resizing, just as in the app. Like an adorable mini Longplay.
This widget is now available in sizes small (9 albums), medium (18 albums), and large (36 albums).
All new Now Playing widget:

Show the currently playing album, or suggests a random one, if nothing is playing; with play/pause button.
Shuffle button to switch to a random album (disabled while album is playing; pause playback first)
Shows a spider chart of the album's metrics (recency, memory, length, negligence, stars, addiction) – tap it or the album artwork to toggle between the two.
Available in small and medium.
Music Player: Vinyl Fetish
The widget can be configured. You can choose to display the controls, the artist name, the album title and side number! The widget controls let you play and pause the music, as well as switch to the next album side.
Download Music Player: Vinyl Fetish
Cooking
Crouton: Cooking Companion
Interactive Live Activities, now you can move through steps and increment timers all from the safety of your Lock Screen.
Widgets – see your meal plan right from the Home Screen (iOS 14 didn't come out that long ago right?)
Redesigned Watch App, redesigned fit right in on watchOS 10.
Multi-Recipe Cooking, now launch multiple recipes in Step by Step mode, ideal for birthdays and family gatherings when you have a little to much on the go.
Redesigned icons, all of the coloured icons have been given a little freshen up, I'm quite partial to yellow, but you do you.
Add meal plan to groceries, now you an add your whole week with a couple of taps.
Automatic temperature conversion, just tap on weird looking temperatures to see them in a much less weird, comfortable unit of measurement (celsius)
Fixed an issue where images could loose quality when editing a recipe
Improved recipe importer for even more websites
Fixed accidental navigation when using wink mode, now you need to be actually facing your device.
Download Crouton: Cooking Companion
Weather
Mercury Weather
New Interactive Widget (in small and medium size) for switching between hourly and daily forecast, right from the Home Screen
Support for StandBy mode with hourly, daily, and current weather widgets
Support for Lock Screen widgets on iPad
Carrot Weather
Track storm movement up to an hour into the future with this much-improved forecast that takes observed radar data and extrapolates it forward.
Widgets are everywhere these days! And now you can add my widgets to your iPhone's StandBy mode display, your iPad's Lock Screen, or your Apple Watch's Smart Stack. (Premium required.)
Set my speech synthesizer up to use your own voice. Create a Personal Voice in the Settings app by navigating to Accessibility > Personal Voice, then once it's done processing you can choose your voice in my Personality screen.
Added 5 new secret locations.
Redesigned the Maps tab to make it easier to switch between Super-Res Radar, Next-Hour Radar, Half-Day Forecast, and Multi-Day Forecast. (Super-Res Radar and Half-Day Forecast are only available in the U.S.)
Redesigned some Apple Watch complications.
Added option to share screenshots with my audio commentary.
Conclusion
Navigating the vast sea of widgets available for iPadOS 17 can be a tad overwhelming, but the interactive ones truly stand out, adding a dynamic touch to our iPad experience. As we've journeyed through this list, it's evident that these widgets aren't just about aesthetics; they're about functionality, efficiency, and making our digital lives a smidge easier.
Whether you're a productivity junkie, a creative soul, or someone just looking to jazz up their home screen, there's an interactive widget out there tailored for you. So, dive in, experiment, and let your iPad truly reflect your style and needs.
¡Haz clic para puntuar esta entrada!